Lincoln Park Zoo is a world of wildlife in the midst of skyscrapers. Located within a verdant park right on the shores of Lake Michigan, just minutes north of downtown Chicago, the zoo has been a natural, free oasis for generations of animal lovers, who visit the zoo to hear a lion's roar echo off nearby apartment buildings, see gorillas climb trees as the Hancock Tower looms in the distance, or forget where they are as they immerse themselves in tropical rainforests, dry-thorn forests or spacious savannas.
We are excited for you to see and explore all that Lincoln Park Zoo has to offer!
Conservation and Science
One of the largest zoo-based conservation and science programs in the country, Lincoln Park Zoo's Conservation & Science Department is dedicated to improving animal management and wildlife conservation. Zoo scientists combine expertise in a range of disciplines to identify threats to zoo and wild populations and develop strategies to ensure their continued existence.
To accomplish this mission of improving animal management and wildlife conservation, Lincoln Park Zoo:
Conducts research with direct application to managing and conserving animals in zoos and in the wild
Leads field animal conservation efforts on behalf of wild populations
Advises population management programs for zoo and wild populations
Trains students as well as zoo and conservation professionals
The zoo's research and conservation efforts focus on programs in population biology, applied animal behavior, primatology, conservation of wild populations, epidemiology, endocrinology, cognition and learning, and veterinary medicine.
These disciplines are organized into five primary research centers, with each center having its own dedicated research staff, support staff and funding: Population Management Center, Urban Wildlife Institute, Lester E. Fisher Center for the Study and Conservation of Apes, Alexander Center for Applied Population Biology and Davee Center for Epidemiology and Endocrinology.
Learning & Community Engagement
The Learning & Community Engagement Department at Lincoln Park Zoo creates multiple opportunities for visitors of all ages and backgrounds to have meaningful experiences at the zoo. The department runs a number of programs throughout the year.
The Learning & Community Engagement Department also schedules on-grounds learning experiences and activities. Check the website for the most up-to-date information.
Locations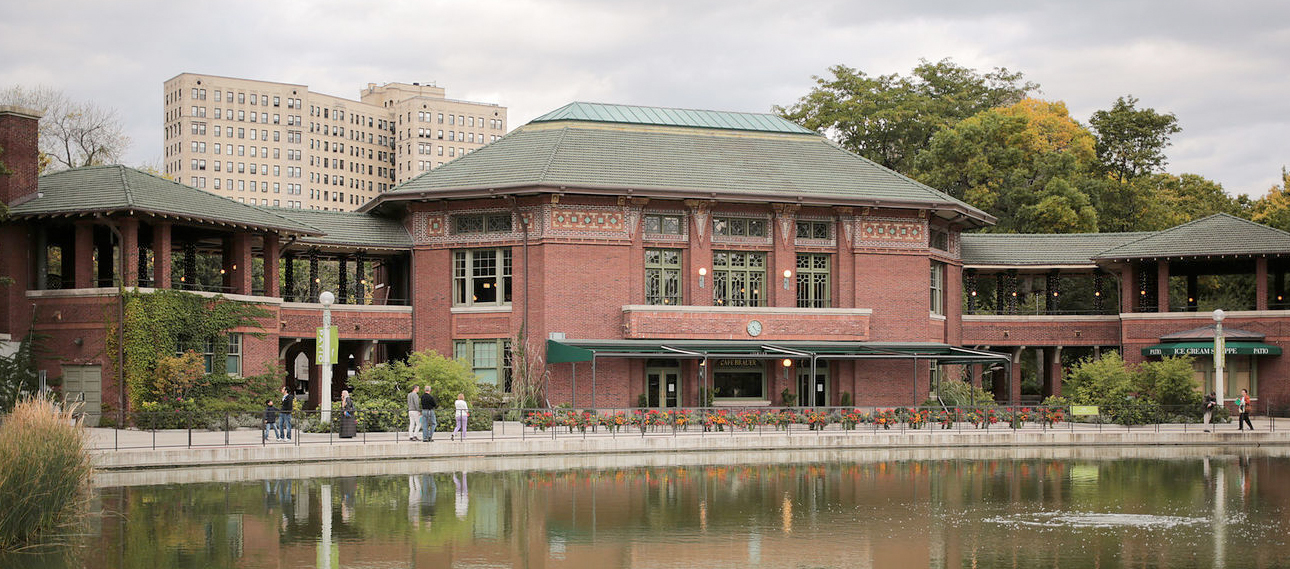 Café Brauer at Lincoln Park Zoo
The 2nd Wildlife Reintroduction Conference will be held in Café Brauer at Lincoln Park Zoo in Chicago, also the location for the previous Wildlife Reintroduction Conference.
Café Brauer is a Prairie-school style landmark building, listed on the National Register of Historic Places. The conference will be held in the Great Hall which features tile mosaics, Tiffany inspired chandeliers, and spectacular views of the park and skyline. Café Brauer sits on a pond south of Lincoln Park Zoo where the zoo's Nature Boardwalk begins. This urban ecosystem provides a haven for native wildlife and an educational opportunity for all ages.